COVID-19 UPDATE
ALTHOUGH OUR ONLINE STORE REMAINS AVAILABLE, WE WILL NOT PROCESS ANY ORDERS OR PERFORM ANY INSTALLATIONS DURING THE COVID-19 LOCKDOWN.
DOUBLE GLAZING
If you have Double Glazing (aka DGU) we cannot cut a hole and fit a pet door.
We must either:
have a new DGU made, with a hole in it, or
replace the DGU with Single Glazing (if appropriate).
SAFETY GLASS

Safety Glass (commonly found in full panel doors) will have a mark similar to this, near one corner. We cannot cut a hole in Safety Glass. Instead, we must have a new piece of Safety Glass made, with a hole in it.
WHAT TO DO
When contacting us, please tell us if your glass is Double Glazing or Safety Glass, and provide us with height and width measurements in millimetres so we can provide you with a quote.
If you are needing installation in Auckland, please contact us before purchasing a door so we can give you a package price including installation.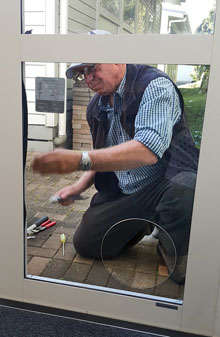 We recommend



Top photo courtesy
Masatsu