If you have Double Glazing or Safety Glass, please read the following before you contact us. This will help us serve you better.

DOUBLE GLAZING
If you have a Double-Glazing Unit, we cannot cut a hole and fit a pet door. We must either:
* have a new DGU made, with a hole in it, or
* replace the DGU with Single-Glazing (if appropriate).

SAFETY GLASS
Safety Glass (commonly found in full panel doors) will have a mark similar to this, near one corner. We cannot cut a hole in Safety Glass. Instead, we must have a new piece made, with a hole in it.
WHAT TO DO?
When contacting us, please tell us if your glass is Double-Glazing or Safety Glass, and provide us with height and width measurements in millimetres, so we can give you an estimated cost. If you accept our estimate, we will then visit you to take precise measurements before ordering your new glass.
---
As we are out on the road all day fitting cat and dog doors across Auckland, it's best to phone us on 0800 228 366 or 021 990 861.
We provide installation service in the area shown on the map below.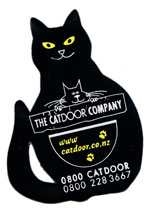 Outside Auckland? We sell pet doors online and ship throughout New Zealand. We can also recommend an installer in your area.
You can also contact us by email using the form below.
Don't forget to ask for your Cat Door Company fridge magnet!